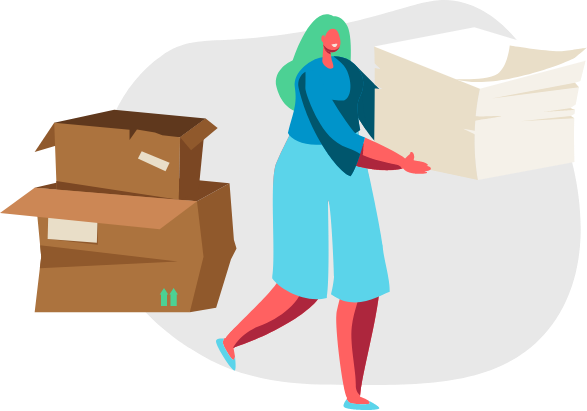 Solicitors, barristers, and indeed all legal service providers should be particularly sensitive to shredding. Not only is this group famous for dealing with gratuitous amounts of paperwork, the nature of the information they handle tends to be especially confidential. Shredding takes on even more importance in this case.
In fact, no matter what business you are in these days, shredding is essential. Despite more and more information being transferred into the digital sphere, we haven't weaned ourselves off paper yet. It doesn't look like we're going to pull it off any time soon. What's more, the rules and regulations concerning data protection are constantly being updated. Handling confidential information carelessly can result in fines, audits and more.
Unfortunately, for legal service providers, the situation is even more complicated. There are a whole host of document types that law firms are obliged to retain. This often leads to a tricky situation where you must balance your responsibility to promptly destroy confidential information with the obligation to hold on to certain papers.
Retention Periods
Different types of documents have different retention periods. This refers to the length of time a law firm or business must hold on to certain papers. This applies to every type of business, but for law firms, it is set in stone to a far greater extent. Any given statute of limitations may influence the retention period for related case files. Law firms are also obliged to retain accounting records for a minimum of six years. Here is a list of documents that legal service providers are likely to come across and their retention periods:
Conveyancing files: 13 years.
Account records: 6 years
Wills: Indefinite retention period
Probate Files: 12 years
This is but a snapshot of the types of documents that could land on your desk. Firms in the legal industry must take great care and create retention policies that define how long they keep files in storage.
Shredding For Legal Service Providers
Once a document, or more likely, a set of documents, reach the end of the retention period, you must shred them. Preparing documents for shredding and ensuring their proper disposal is crucial for legal service providers. The benefits of shredding for businesses include ensuring efficiency and security in disposing of paper, as well as compliance with data protection regulations.
GDPR
As we all know, GDPR has had an enormous impact on how we handle files and sensitive information. A business may only gather personal information for specific, legitimate purposes, and they cannot hold onto this information once that purpose has been fulfilled. This is particularly complicated for the legal industry, as they may be entitled to hold on to the information for much longer than normal, for example, due to a statutory requirement. Once it is time to get rid of a document, shredding is the only secure way to do it.
Client Concerns
The information clients provide for legal service providers on a regular basis can be very personal and detailed. Therefore, they may hold particular concerns about the way you are processing and storing that information. Responsible shredding is an important part of showing your clients that you take their confidential information seriously.
Thorough Destruction
If we simply threw confidential documents in the bin, the information wouldn't be safe. We must go a step further in order to protect sensitive data. That's why the shredding process is so essential; it renders the paper illegible. In fact, even shredding is not sufficient at times. Many standard office shredders only tear paper into long strips which can easily be reassembled.
Shred With Pulp
Once you have made the decision to shred in principle, the most responsible thing to do is bring in a trusted shredding partner to get the job done. In-house shredding comes with too many security risks which are particularly pronounced for the legal industry. Here's why it's better to shred with us:
High Standards
Our shredding practices meet the high standards that are set by the National Association for Information Destruction and we hold an EN15713 accreditation. This means that our shredders destroy documents absolutely beyond recovery, which guarantees your security.
Paper Trail
We provide all of our customers with certificates of destruction. This means you will have it in writing that a trusted shredding provider securely destroyed your confidential documents. This is an invaluable resource, both in terms of your own clients and auditors.
Wrapping Up
The obligation to handle confidential documents with care means shredding for legal service providers is an imperative. The best way to fulfil your obligations and retain the confidence of your clients is to bring in a shredding specialist to handle document destruction. For more information about Pulp's services, don't hesitate to get in touch today.