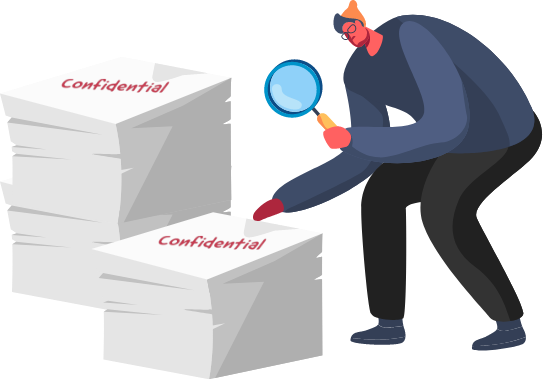 The New Year is the perfect time to take stock of your business and look for potential improvements. With everyone refreshed and ready to go after the holidays, it's an opportunity to think about new policies and new measures to protect yourself, your employees, and your clients. One area that's becoming increasingly important as time goes on: data security. The way your business handles sensitive information can have huge ramifications if you're not careful. Remember, data security isn't just about information stored digitally. Any personal or confidential information that you store on paper is equally as sensitive. Even things that may seem mundane or innocuous, such as receipts, invoices, letters or legal records, meet the criteria. Therefore, shredding is essential for business security.
The Risks of Not Shredding Sensitive Information
You may be asking yourself: what are the risks of not shredding sensitive information? It is important to consider the potential consequences of neglecting to shred. Generally speaking, we can categorize the potential consequences as either direct or legal. A direct consequence might be something like identity theft, whereas a legal consequence might be a fine from the Data Protection Commission (DPC).
Identity Theft
Identity theft is one of the most serious things that can happen if you have poor data security. This is when someone impersonates you by using private or sensitive information, usually with the goal of stealing money. Shredding is an important means of preventing this. If you simply throw old documents in the bin, they are not secure and are vulnerable to thieves. You should always destroy private and sensitive data before disposing of it.
Protect Your Clients
Identity theft and similar risks are noteworthy enough for private individuals, but when you're talking about a large organisation like a business, it becomes even more serious. Remember that there is a much larger pool of people who could be affected here, such as employees or clients. You should take their safety into consideration as well as the long-term impact a data breach would have on your professional relationships.
Fines, Audits and Penalties
If you hold on to any kind of sensitive information, you have a legal responsibility to store and destroy it responsibly. You are liable for lapses in data security, even in cases when you and your business are the victims of a data breach. It's important to cover your bases here and ensure that you are compliant with data protectin law in the most stringent possible terms. The DPC can and will hold businesses accountable for irresponsible handling of sensitive information. You may be surprised to learn how many fines are issued in relation to information stored on paper. You may even have to provide evidence that you destroyed data securely. The best way you can protect yourself and the security of your business is by shredding with a company like Pulp.
Shredding For Business Security
The laws and regulations that govern shredding and document destruction are stricter than many people realise. This means it is getting much harder to be fully compliant without enlisting the help of a confidential shredding provider. For example, can you be certain that your garden-variety office shredder destroys documents to the standards required? In the event of an audit, can you supply documentary evidence that proves you destroyed your data?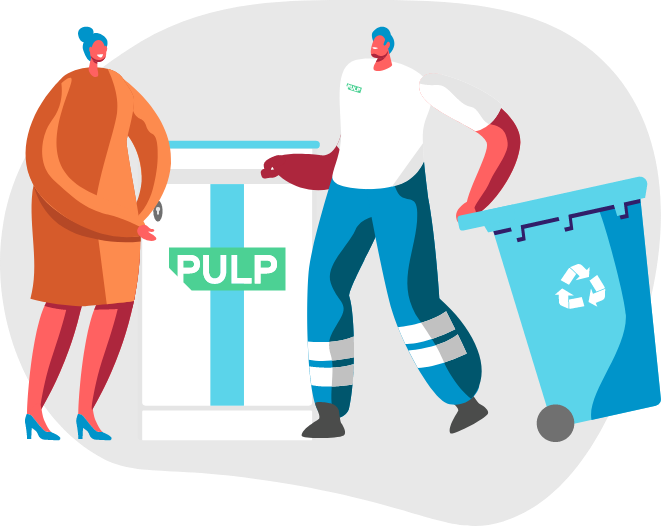 The Benefits of Implementing a Shredding System
When you implement a secure shredding system, it's not just a question of ticking all of the security and legal boxes. There are lots of other benefits which you will start to notice straight away. Secure shredding with Pulp is a step towards a greener, more cost effective, more efficient business.
Recycling
Did you know that Pulp recycles 100% of the paper we shred? Paper is a surprisingly durable material that can be reused multiple times. It doesn't make sense to simply throw it away. That's why all paper that we recycle is used to make cardboard, tissue paper, and innumerable other products. Since we opened for business, we have saved the equivalent of over 400,000 trees just by doing this.
Cost Effectiveness
Between the money you save on fines, equipment maintenance, electricity, and purchasing new shredders, Pulp is a cost-effective way to deal with your shredding. In order to provide maximum flexibility for our customers, we offer both a regular and a one off service that can be tailored to your needs.
Increased Efficiency
Pulp can help you take the hassle out of shredding. No need to worry about useless paper clogging up your filing cabinets (and, incidentally, creating a fire hazard), wasting employees' time with feeding documents into a machine, or excess material cluttering up desks. When you shred with Pulp, you eliminate all of these problems in a single stroke.
Shredding For Business Security
The rules and regulations around data security and document destruction continue to evolve. As meeting your business's shredding requirements become more legally, technically, and functionally complex, it makes sense to involve a specialist like Pulp. Contact us today to find out how we can help you implement a shredding system and beef up your business's security.