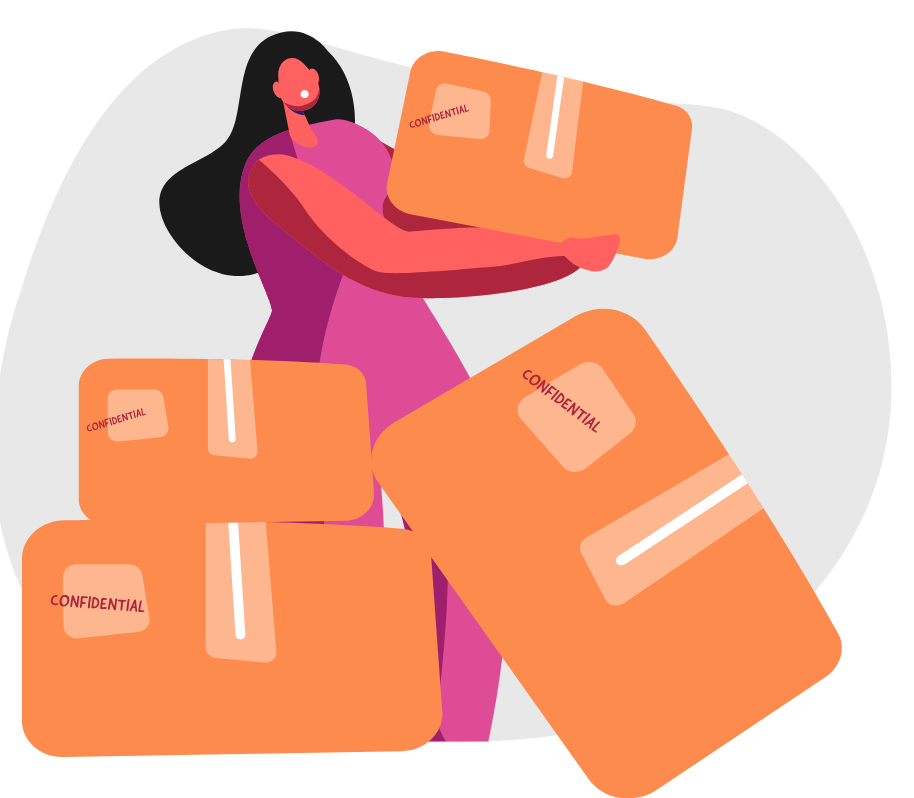 Once you've made the decision to bring in an outsourced shredding provider like Pulp, it will be much easier for you to manage your paper waste and adhere to legal requirements relating to data protection. Our process is designed to be as straightforward and streamlined as possible. Don't worry, we'll handle all the heavy lifting. However, there are some things you can do on your end to make things run smoothly. In this week's blog, we will go through everything you need to know about how to prepare your documents for shredding.
What To Expect From Pulp
What happens when you outsource your shredding to Pulp? By and large, we do all of our shredding onsite in our purpose-built, mobile shredding trucks. Shredding quickly and with as few steps as possible is the most secure way to do it. The exact process depends on what kind of service you would like: One Off, Regular, or IT Destruction. When you understand these, it is easier to anticipate what you need to do to prepare.
If you're looking to do a quick clearout, spring cleaning, or perhaps you need to safely dispose of some confidential documents, this is the option for you. Simply arrange a date and time with us and we'll come and take care of it. The most important thing for you to do here is gather all of the relevant material in one place and, ideally, to place it somewhere easily accessible for our team.
Depending on what kind of business you are operating, a regular service may be the best option. If you go through a lot of paper on a regular basis, or if your firm deals with an abundance of confidential information, this is the way to go. For example, this is especially the case for the legal industry. When you're handling client information, sensitive documentation, and any other confidential data at a large scale, regular shredding is essential. Law firms data protection is a critical aspect of their operations, and depending on their size, law firms may not have the facilities, equipment or man-hours to deal with this effectively.
For our regular customers, we go a step further and provide secure shredding consoles. These are lockboxes into which you can safely and easily deposit all of the paper you wish to shred. We will then come and safely destroy all of the contents regularly. The number of consoles and the frequency of our visits can be tailored to your convenience.
In addition to paper, our shredders are powerful enough to destroy any old IT you may have. This includes hard drives, laptops, disks and more. All of these devices could potentially contain sensitive information and ought to be disposed of correctly. Our IT Destruction service works on the same basis as One Off Shredding; simply gather everything in one place, make an appointment and we'll do the rest.
How To Prepare Your Documents For Shredding
In addition to the more obvious steps mentioned above, there are a few things you can do to prepare your documents for shredding. The following information will ensure that your shredding process is as secure, effective and streamlined as possible.
Retention Schedule
If you haven't already, keeping a retention schedule for your documents is a great way to keep your office clutter-free, organise your shredding, and cover all of your bases from a data protection standpoint. A retention schedule defines how long you should keep certain kinds of documents and when you should destroy them. This is another thing that applies especially to the legal industry. For law firms, there are strict rules about how long they must retain certain kinds of documents. Some legal documents should never be destroyed, such as wills.
The details of your retention schedule, or in other words, the length of time you should hold on to documents, depends upon the requirements of your industry. However, there are some general guidelines you can follow. For example, stamping a document with the pertinent retention date, or storing it in a clearly marked box, will help keep you organised. You can also implement a shred-all policy at work. This means that you and your employees shred all unused paper by default unless it must be stored for a specific purpose.
Our Shredding Capacity
Our trucks are designed to shred paper on an industrial scale, and they far outstrip a standard office shredder, so there's no need to worry if you need to deal with a large volume of paper. There's also no need to worry about paperclips, staples, or even binder clips. All you need to worry about is gathering all your paper in one place, usually in one of our secure shredding consoles.
Wrapping Up
From junk mail to legal documents, we can handle all of your shredding requirements. Not only is paper shredding convenient, it's good for the environment and it protects you from data breaches. If you're interested in learning more about our services, don't hesitate to get in touch today.