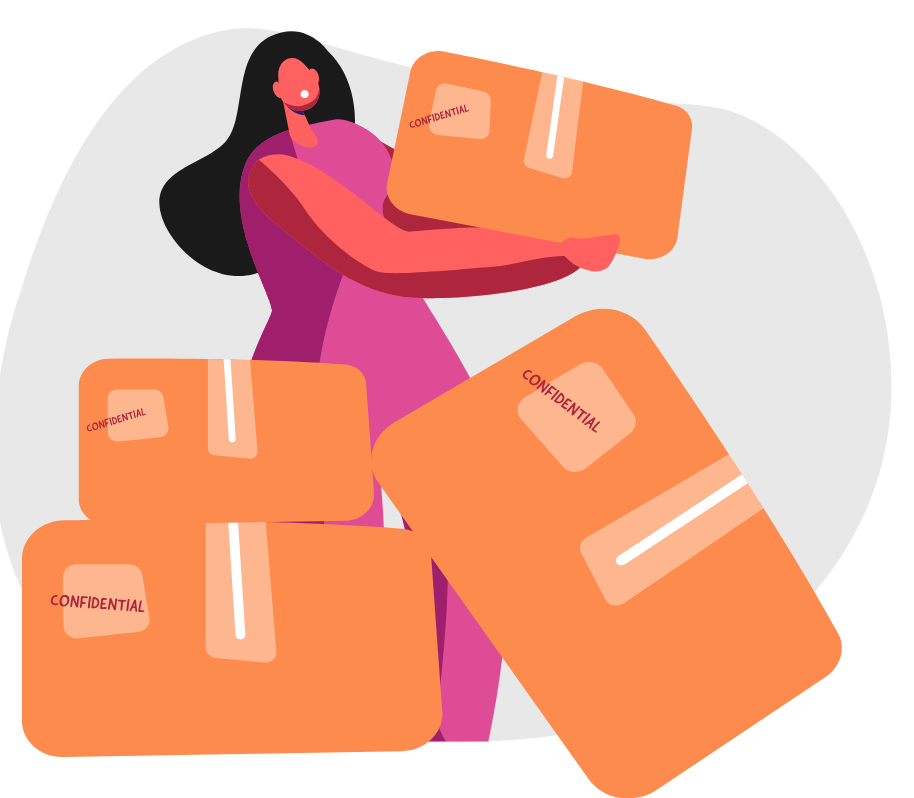 In order to maximise the benefits of using shredding services, we recommend that your business adopts a structured, comprehensive approach to shredding. We believe in setting out with a clear vision of which documents you need to destroy, how, and when. The way we see it, the choice is between a shred-all policy and a selective shredding policy. Let's take a look at both approaches.
What is a Shred-all Policy?
A Shred-all Policy does what it says on the tin. With this approach, you destroy all documents as soon as you no longer need them. Once read and dealt with, all correspondence, bills, invoices, and any other documents go straight into the shredder.
So what are the pros and cons of a shred all policy?
Pros of a Shred-all Policy
Simplicity. With a shred all policy, there is no ambiguity about which documents you keep, and which ones you shred. When you simplify your shredding policy, you will make fewer mistakes and spend less time making decisions. The fewer choices an employee has to make about shredding the better. This way, there is simply less room for error. It is a streamlined approach to shredding.
Security. Once, shredding was just about keeping things orderly and recycling. Nowadays, regulations surrounding confidential data have tightened. We all have a responsibility to store data securely and despose of it responsibly. A shred-all policy maximises data security because any and all sensitive information is destroyed sooner. This is the best way to avoid the costly fines and audits that follow from data breaches.
Cleanliness. One of the most obvious advantages of a shred-all policy is that it keeps your office clutter-free. Why keep masses of filing cabinets and heaps of boxes full of papers and documents that will never see the light of day? It's far more sensible to free up the space. Furthermore, an orderly workspace is a productive workspace. A clean desk is preferable to one littered with old papers!
Cons of a Shred-all Policy
Shredding Capacity. How many shredders are in your office? Are there enough to deal with a daily stream of documents from all of your employees? How will you dispose of the higher volume of shredded material? An office goes through a lot of paper, and shredding everything in house can quickly become a logistical nightmare. If you choose to adopt a shred-all policy, you will have to think about how to overcome this challenge.
Time. Document destruction takes time, especially when dealing with a high volume of paper. When you adopt a shred-all policy, your employees will be engaged with shredding for large parts of their day. This time could otherwise be spent doing other tasks. Although there are numerous benefits to shredding everything, it also requires a lot of time and energy to do properly.
What is a Selective Shredding Policy?
Unlike a shred-all approach, selective shredding means you destroy some documents, but keep others in storage. You will keep folders and files in desk drawers, or load them into boxes or filing cabinets instead of shredding them. There are many reasons businesses choose to go down this route. Record keeping, insufficient shredding capacity, and time constraints are all factors that could lead to a business maintaining a selective shredding policy. What are the pros and cons of selective shredding?
Pros of Selective Shredding
Choice. Some documents may contain information that will be useful at a later date. Other documents become obsolete once read. A selective shredding policy means you can decide whether a document is worth saving or not. This practice allows for more flexibility and adaptability.
Time. Of course, a selective shredding policy means less shredding overall. Therefore, you and your employees will have more time to do other things, at least in the short term. Eventually, the build up of obsolete documents could cause other issues, and a solution would have to be found.
Cons of Selective Shredding
Security. Unlike a shred-all system, a selective shredding system leaves you open to data breaches and all of the legal repercussions that follow. Unnecessarily keeping confidential information means it is far more likely to be lost or stolen, which could result in costly fines and audits.
Clutter. Nothing clutters an office more effectively than spare pieces of paper lying around. Selective shredding means there is likely to be a build up of paper on the desks of your employees, as well as any storage rooms, shelves, and cabinets. When you shred selectively, you simply kick the can down the road. You will have to deal with all of those spare documents in some form or another. If you do need to clear out a mass of documents at once, why not check out our once off shredding service?
Why does Pulp recommend a Shred-all Policy?
As experts in document destruction, when we compare a shred-all approach to a selective shredding approach, the choice is clear: Shred-all is the better option. It is the most efficient, safe, and comprehensive way to tackle your shredding. Furthermore, by outsourcing your shredding to us, you can alleviate all of the cons associated with implementing a shred-all policy. Our shredding trucks can easily deal with huge volumes of paper, and can handle all of your document destruction on site. Our professional, Garda-vetted team can take care of the shredding so you and your employees can concentrate on what's most important for your business.
When you shred with Pulp, implementing a shred-all policy is fast and simple. When you sign up for our regular shredding service, we will install secure shredding consoles wherever you need them in your office. Simply deposit all of your unwanted paper into the consoles and we will come as frequently as necessary to shred everything on site.
Shred-all Policy Template
Inform all employees of your intention to adopt a shred-all policy.
Clearly define the types of documents that you want destroyed. Make it as simple as possible and leave no room for varying interpretation.
Avail of a regular shredding service. This will make it easy for employees to discard confidential documents and ensure that all data is thoroughly destroyed.
Appoint someone to ensure that no confidential documents are left around the office.