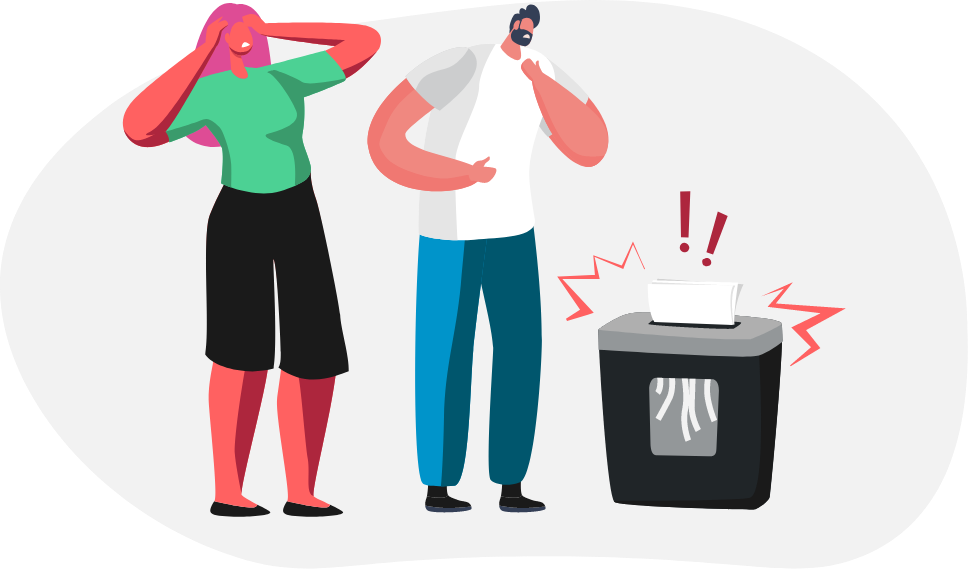 We have arrived at a point where no business can afford to neglect document destruction. The costs, from storage expenses to punitive fines arising from audits, are too great to ignore. The risks posed by data breaches have increased, and legal obligations on the part of businesses have materialised to compensate. We have reached a stage where it is hardly a question of whether or not you should shred, but how you go about it—should you shred in-house or outsource to a confidential shredding company? It is our view that the benefits of outsourced document shredding far outweigh those of in-house shredding.
Despite increasing digitisation, offices across Ireland continue to operate with paper. We use it constantly, in every workplace across the island. Bills, invoices, receipts, files and much more. All of this paper waste simply must be dealt with. However, we can't simply throw it in the bin. We must dispose of it responsibly. That means recycling and destroying all sensitive data. Shredding is the obvious solution. You can either shred yourself, or work with a shredding company. What are the advantages and disadvantages of shredding in-house vs outsourced shredding? At Pulp, we recommend outsourcing your shredding. Here's why:
Why Not Shred In-house?
For many, in-house shredding seems like the best option. Why complicate matters by outsourcing? In reality, dealing with your shredding in-house creates a whole host of problems. Here are some of the obstacles you will need to overcome:
Purchasing Equipment. Shredding in-house means you will have to invest in a shredder for your office. This can set you back hundreds of euro, and even a high quality shredder will not provide the same quality or capacity as Pulp. Depending on the size of your office, one shredder may not even be enough to meet your needs. Next to this, paying to outsource your shredding is a small expense.
Maintainance. Just like all other machines and office equipment, you will have to maintain your shredder. Even the most modern, best designed models jam, require repairs, and can be complicated to operate. In order for you to keep your office shredder in good nick, you will have to lubricate it, run it in reverse to unclog it, clean the blades, and so on. By outsourcing, you avoid all of these responsibilities.
Time. Shredding, especially with a standard office shredder, takes a lot of time. Many models require you to feed in the paper one sheet at a time. It can take up to five seconds for a standard machine to shred even one sheet. When you're dealing with any kind of volume, this is a tiresome exercise. Moreover, most shredders have a limited run-time. In other words, you can only use them for so long before they overheat. Once again, outsourced shredding allows you to avoid this problem.
Bin Service. Even when you supposedly save on shredding costs by doing it in-house, you still have to deal with the shredded material. This means you will have to pay for the recycling bins for the shredded paper. Even when you don't pay to have outsourced shredding, in terms of cost, you are effectively kicking the can down the road. Shredding in-house is a half measure compared to the full measure that is outsourced shredding.
Data Breaches. These days, we all have a responsibility for the destruction of confidential data. Failing to adhere to these standards can result in fines, audits, and all manner of legal trouble. How well protected are you when you shred in-house compared to using outsourced shredding? Office shredders simply don't destroy documents as thoroughly as Pulp shredders. We also maintain that our highly qualified, Garda-vetted team are best-placed to handle confidential data, and oversee its destruction.
Benefits of Outsourced Shredding
On the other hand, what benefits will you gain by using outsourced shredding? Here are some of the benefits you will see by signing up for Pulp's regular shredding service:
Ease of Use: Instead of having one or more shredder in your office, we will distribute shredding consoles as needed. Unlike operating a standard shredder, you can instantly deposit all confidential and unwanted paper into these secure boxes. Our team will come by as often as necessary to empty the consoles and destroy the contents. This system is faster, more secure, and less complex than in-house shredding.
Destruction. When you shred with Pulp, you can rest assured that all of your confidential documents are thoroughly destroyed. We shred in accordance with all data protection laws and destroy documents to the highest possible standard. Take a look at this page to see our NAID and ISO 9001 certification. We are fully up to the task of handling your confidential data.
Disposal. Not only do we destroy all of the information contained on your documents, we also remove the waste so that you don't have to. Shred with Pulp to save on recycling costs. Our high-volume, state-of-the-art shredding trucks are perfect for destroying and removing your paper waste. We also recycle 100% of our shredding, which helps yor business become more sustainable as part of the bargain. Instead of taking care of all the shredding yourself and paying extra for recycling, allow us to take care of everything.
Time. By placing the responsibility of shredding into the hands of our professional, Garda-vetted team, you save time. Don't waste any more office hours or energy dealing with shredding and information destruction, outsource it and start seeing the benefits right away.
In our view, outsourced shredding is clearly preferable to in-house shredding. To get a quote, contact our offices today! From our bases in Dublin and Cork, we service the whole island of Ireland. Check out our previous blogs to find out more about confidential shredding services in Dublin.
Maximise your Security
Shredding is the best way to ensure that your confidential documents don't fall into the wrong hands. Outsourced document shredding is the best way to guarantee that the data is destroyed securely. This is because companies like Pulp make use of the highest quality shredders. A typical office shredder merely tears paper into strips which you can reassembled with enough patience and determination. A document that goes through a Pulp shredder is beyond recovery. Because we use mobile shredding trucks, all of your confidential documents are destroyed on-site, which further minimises risk.
Minimise your Cost
Shredding in-house can seem like the best way to reduce costs. A one-time investment in an office shredder would surely be worth it if you get enough mileage out of it. However, it is very easy for the costs to mount. A high-end shredder that destroys documents to a good standard can drastically inflate your budget, and even if you do purchase one of these machines, it won't shred nearly as thoroughly as a Pulp shredder. Outsourced document shredding is better value for money.
Outsourced Document Shredding and Scheduling
In an earlier blog, we discussed when you should destroy documents. Ideally, different types of documents have different retention periods depending on the sensitivity of the data, their future utility, and convenience. Implementing a shredding schedule that takes into account different retention periods for different types of documents can be a complicated business, but outsourced document shredding helps. Firstly, the shredding process becomes more straightforward from your end because the hardest and most time consuming part falls to us. Secondly, the regularity of our service makes for easy scheduling.
Improve your Efficiency
Outsourced document shredding is far more streamlined than in-house shredding for a number of reasons. Firstly, your employees no longer have to use up their time doing the shredding themselves, as our team will take care of it. Secondly, there's no longer any need to worry about maintaining a shredder. Un-jamming paper clips, lubricating blades and replacing defunct machines are things of the past. With more time on your employees' hands and a tidier, less cluttered office, increased productivity is a given.
How does outsourced document shredding work?
We've made sure that the process of outsourcing your shredding is as easy as possible. First, give us a call and we'll discuss what your shredding needs are. This will allow us to tailor a shredding plan according to your requirements. We offer a Regular as well as a One Off shredding service. Next, we'll set up paper consoles in your office. These are secure boxes where you can deposit all of your unwanted paper. Our Garda-vetted team will come on a regular basis to empty your consoles and shred all of the contents on-site. Give us a call today to find out more!