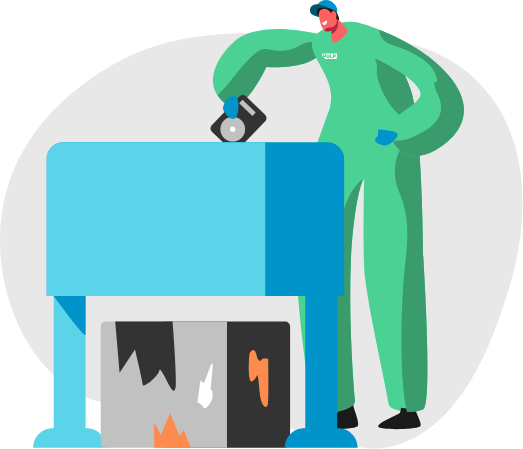 It's that time of year again. The Summer Holidays have drawn to a close. Schools and universities are opening up. Workplaces are settling back into their usual routine. In many ways, September can feel like a new beginning. To some, this makes it feel like the Monday of the year. To others, it's a fresh start. Either way, this September is the perfect time to think about secure shredding. Many businesses, in addition to academic institutions, see their workload rise at this time of year. That means a bigger paper trail, more confidential information passing through your hands, and more reasons to shred with Pulp.
Back to School—Time to Shred!
Unquestionably, schools and universities are up to their necks in admin in September. The mass of new enrollments brings with it a mass of paperwork. Transcripts, attendance records, exam results, there is an endless stream of information that can end up in paper form, clogging up desks, in-trays and filing cabinets. Therefore, a fast, secure, comprehensive shredding system this September is a must have. Pulp's services can take some of the headache out of your administrative burden. Outsourced document shredding with us will be a load off of your mind as well as your plate.
In this day and age, it is impossible to overstate the importance of data security. We store and utilise more confidential information than ever before. Consequently, we have a responsibility to handle that information with greater care. This responsibility has been codified in legislation including but not limited to GDPR. Shredding with Pulp is the best way to ensure that confidential information is disposed of securely. To read more about our methods and qualifications with regard to data destruction, click here! When managing an academic institution, particularly when safeguarding minors is a concern, the obligation for data protection is even more important.
It's not just schools and universities that are affected by the arrival of September. They are impacted more directly, but the return of schoolchildren and students affects all parents, and therefore, all workplaces to some extent. It's a hectic time indeed. That's why it's the best time to avail of all the benefits of a shredding service. These benefits include:
A cleaner and more orderly office.
The highest standards in data security.
Less time spent shredding for you and your employees.
Whatever your shredding requirements may be, Pulp has got the service for you.
How to start secure shredding this September
Depending on the size of your organisation, the volume of paper you use, and the sensitivity of the data in question, Pulp offers a range of services that will get your shredding up to scratch.
One Off Shredding: If you have an abundance of old papers, files and documents to get rid of, but don't generate enough paper waste to require a regular service, then One Off Shredding is for you. Simply call us to arrange a quote and a time. We will then come and shred all of your documents on-site in one of our mobile shredding trucks.
Regular Shredding Service: This is for organizations that generate paper waste on a continuous basis. We will stop by at regular intervals to destroy any redundant files. Simply deposit unwanted paper into the secure shredding consoles that we provide. The contents will be destroyed on-site by our shredding trucks.
IT Destruction: More and more, we store our information digitally. Rather than paper, we use computers, hard-drives, and other digital means for record keeping and admin. Unfortunately, this data is no less sensitive than the kind we store on paper. When the time comes to dispose of it, we must do it responsibly. Further complicating matters is the fact that we have to discard certain types of electronics in different ways: That's why there are special bins in recycling centres for laptops and batteries. Pulp can dispose of redundant IT equipment for you. We can securely destroy Phones, laptops, computers, disks, even large units such as printers and fax machines, all on-site.
To find out more about our services, give us a call today!