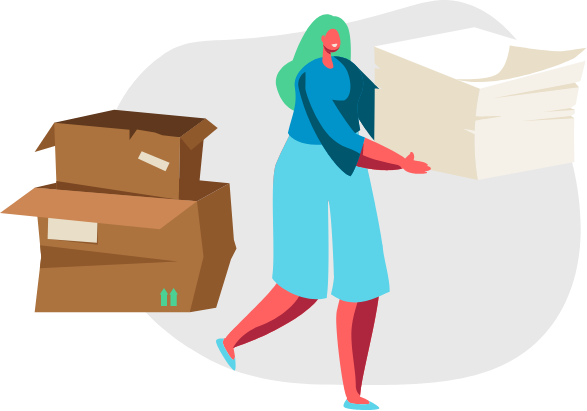 An orderly office is a productive office. Keeping things clean and tidy is vital in order to maximise productivity. Less clutter means less distractions. Sometimes, it even means more space to work at your desk! Most people try to implement a clean-as-you-go policy, at home as well as work, but as we all know, it's much easier to make a mess than clean one. No matter how conscientious you are, eventually, loose files, papers, and folders start to accumulate. For this reason, we recommend that businesses do periodic clear-outs. On top of that, now is the perfect time to start. Here's why and how Pulp recommends a Summer Clear-Out.
Why Summer?
Most people think of Spring as the season of cleaning, or even Winter, as the weather is too bad to do anything else, but there is also a strong case to be made for a Summer Clear-Out. Why is August the best time to get started?
More Distractions: Europe, including Ireland, is facing an unprecedented heatwave. Over the past few weeks, we've seen record after record smashed as temperatures reach new heights. This is a distraction for offices for a number of reasons. Firstly, it's easy for minds to stray towards imagining the best ways to make the most of the weather instead of concentrating on work. Secondly, many offices across Ireland aren't equipt with air-conditioning units. This can make working stuffy and uncomfortable. Against this backdrop, it's best to control what distractions you can, and one of those is workplace clutter.
Coming and Going: As a matter of course, Summer is when most people take their annual holidays. School holidays and better weather make it the perfect time to get away. As a result, it's likely that your workplace will have people coming and going quite frequently. As August draws to a close and employees settle back in, a Summer Clear-Out is the perfect way to reinvigorate and refocus. Returning from holiday often means returning to a big in-tray. This creates the perfect conditions for clutter to build up, not to mention all the now-outdated documents that were left behind.
Looking Forward: For many people, the beginning of Autumn heralds a return to the business-as-usual daily grind. The re-opening of schools is a big factor in this, as it affects the daily routine of everyone who is a parent. Autumn is also an important time of year for tax filing and the accompanying admin. A Summer Clear-Out is the perfect way to lay the groundwork for this part of the year, and ensure that you are going into it on the best footing.
How can Pulp help with your Summer Clear-Out?
As a confidential shredding and recycling company, Pulp is in a great position to help with your Summer Clear-Out! No matter what size your company is, or what your shredding requirements are, we have a service that can be tailored to your needs.
One Off Shredding: This is the ideal way to kick off your clear-out. If you have a build-up of old documents that you need to get rid of, our One Off Shredding Service allows you to deal with it in one stroke, and reduce your carbon footprint at the same time!. Simply give us a call to arrange a date and time, and we'll do the rest. Our shredding trucks will destroy all of your paper on-site, so there's no need to worry about confidentiality or security.
Regular Shredding: Happy with your clear-out and keen to keep a lid on office clutter? Why not graduate to a regular shredding service? This way, we will install secure consoles in your office to store your unwanted paper. We will return to shred the contents on a regular basis according to your needs!
To find out more about how we can help you with your clear-out and shredding needs, contact us today.