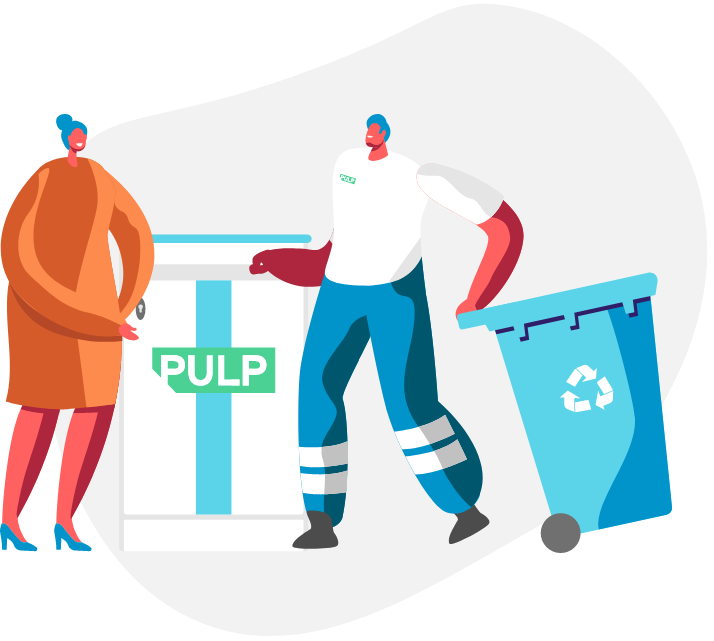 Working from home was a huge transition across the country. People and businesses had to adapt, innovate, and deliver within an extremely short timeframe. However, the worst of the danger from COVID-19 has now passed. That means many of us are returning to the office. It may not be as urgent or rushed as the move to work from home, but it is still a transition. That means another readjustment period, packing and unpacking, and generally trying to settle back down. Now is the perfect time to avail of Pulp's shredding services. Now is the perfect time to de-clutter your workspace and avoid data breaches on top of a whole host of other benefits.
Returning to the office: Regular or One Off Shredding?
At Pulp, we offer different types of shredding services to suit your varying needs. The most important choice you have is whether to sign up for a Regular or a One Off service. With a regular service, we will install secure shredding consoles where needed around your office. You can fill these up with unwanted paper which we will then collect and shred on-site on a regular basis. Alternatively, the Once-Off service can be used to deal with a large chunk of shredding at once. Simply schedule an appointment with us, gather your unwanted documents together, and one of our shredding trucks will arrive to destroy everything on-site.
As your employees arrive back in the office following the pandemic, we recommend a One Off shredding service. Improvised home offices are not ideal for document destruction. Confidential files can easily be left lying around, or worse, end up in an employee's bins. This leaves you open for data breaches. Instead, have your employees retrieve all their work related files from home. Gather all the obsolete documents in one place and free yourself of them with Pulp's One Off Shredding service.
Here are more reasons why One Off Shredding is essential after returning to the office:
Security
One of the most important reasons to shred with Pulp is security. In recent years, privacy, safeguarding information, and data protection have all become topical issues. New legislation such as GDPR underscores this. It also means that, as businesses, our data protection obligations are more serious than ever. Data breaches can lead to fines, audits, and more. On the other hand, destroying your documents with Pulp safeguards you from data breaches. Our shredding trucks reduce your confidential information to, well, pulp! A transitionary period, such as returning to the office, can leave you particularly vulnerable. As things are moved around and relocated, it's more likely that someone leaves a few sheets of paper here, or a file there. A One Off Shredding service will ensure that you are protected.
De-Clutter
Regular and responsible shredding is an excellent way to keep your office clean. We use a lot of paper, it builds up fast, and it has a way of getting everywhere. Big moves exacerbate these problems. Most of us have moved house at least once and have experienced first-hand how packing and unpacking can get messy. The same principle applies to returning to the office. A group of people that arrive back at the office all at once after working from home are bound to bring plenty of loose leaves of paper back with them. A One-Off Shredding service will let you nip the problem in the bud, and prevent a wave of clutter from distracting you and your employees.
Recycling
Did you know that Pulp recycles 100% of the paper we shred? Since we opened for business, we've saved over 400,000 trees. Our clients make this possible for us. Shredding with us is a guaranteed way to reduce your carbon footprint, and even a One-Off Shredding service as you're returning to the office helps. Paper that would otherwise be clutter, or taking up storage space, can contribute to the supply of recyclable material and become tissue, toilet paper, cardboard, and many other types of useful products. On top of all the other benefits of shredding, you can help do your bit for the planet.
Why an office shredder doesn't cut it when returning to the office
To some, the obvious solution to their office's shredding needs is to buy their own shredder. At Pulp, we see this as a shortcut and a half-measure that creates as many problems as it solves. Here is our elevator pitch as to why Shredding with Pulp is better than getting an office shredder:
Security: It's that big "S" word again. While an office shredder may seem more convenient or cheaper, they simply don't destroy documents to our standards. A strip shredded document can be reassembled with relative ease, and a cross-shredding model will require you to raise your budget significantly. Even high-end models are nothing compared to Pulp shredders, which utterly destroy confidential documents.
Time: Shredding documents, especially in high volume and with a low-end office shredder, takes a long time. Why waste valuable man-hours doing this when you can outsource to a team of trained, Garda-vetted professionals? This is to say nothing of the cost and effort of maintainance, or worse, a repair job. We can take all of this off your hands.
Conclusion
Returning to the office is a big undertaking, with a lot of moving parts. At this moment, a data breach is more likely to happen, and clutter can easily get out of hand as you and your employees move back in and unpack. We highly recommend that you cover all of your bases and arrange a One-Off Shredding service.