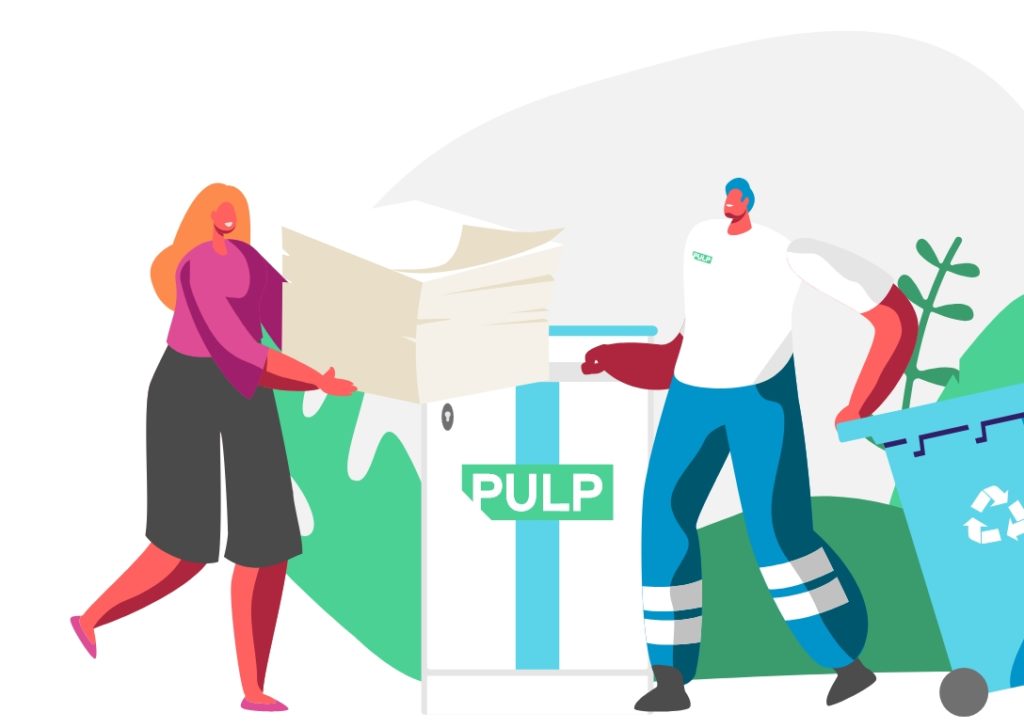 People often associate shredding services exclusively with the private sector, i.e., big businesses and corporations such as law firms, marketing agencies and stock brokers. However, other types of organisations require document destruction. The bottom line is that any organisation that handles sensitive information, particularly that of private individuals, has a responsibility to dispose of that information appropriately. This brings us to confidential shredding in education. Many schools, universities and colleges are not for profit, but they still handle and have access to personal information. Never fear, Pulp is attuned to your shredding requirements and stands ready to deliver you a secure, thorough and efficient shredding experience.
Types of Sensitive Data in Educational Institutions
It is absolutely unavoidable that educational institutions store confidential information. In order to keep track of students, assess them and perform other tasks, it is essential to keep records. However, GDPR and other privacy laws mean there are strict rules about how this information is handled and disposed of. Here are some examples of private documents that we often find in schools and universities:
Student files
Academic records
Attendance records
Admissions
Employee information
Reports
Visitor logs
Applications
The above is but a small taste of the types of information your organisation may have on hand. The question is, when should you involve confidential shredding in education?
What Should Be Shredded?
Shredding companies like Pulp recommend a 'shred-all' policy. In other words, anything non-essential should be destroyed as soon as possible. However, confidential shredding in education is more complicated than this because of the importance of record-keeping. For example, a university has an obligation to hold on to transcripts in the event that an alumnus wishes to request a copy. The rule of thumb is that you should never hold on to a piece of documentation that contains confidential information unless you have a specific reason. This is the meaning of a shred-all policy.
The Process and Benefits of Confidential Shredding
The next question you may have is, 'How does a confidential shredding service in education actually work?' In this section, we will go through the process of shredding with Pulp as well as the many benefits you will enjoy as a result of using our services.
The Process of Confidential Shredding
Once you decide to use a professional shredding partner, the first step is to decide what kind of services you would like to avail of. At Pulp, there are three kinds of service we offer:
Regular shredding services. This is an arrangement in which you schedule a regular time (every second week for example) for Pulp to come by and pick up documents to shred. This is the best arrangement if your institution gets through a high volume of paper.
One off shredding services. Let's say you have one particular storeroom or batch of documents that you need to get rid of. You don't think there will be a significant, continuous buildup of documents on a regular basis, but you want to make sure that these ones are properly disposed of. This is where one off shredding comes in. Simply call us, arrange a time, gather your documents in one place and we will take care of them.
IT destruction. Our industrial-grade shredders are able to handle more than just paper. Do you have confidential information stored on phones, laptops, hard drives or other IT? We can destroy them quickly and easily. This works the same as a one off shredding service.
The Benefits of Confidential Shredding
There are many benefits of confidential shredding, some of which you may not have been aware of. There are three things to keep in mind here: security, efficiency and sustainability.
Security
Our shredders are far superior to a standard office model. For the most part, normal shredders simply tear documents into strips which a determined actor can reassemble. The kind of shredders that Pulp use destroy documents far more thoroughly and well beyond the point of recovery making it much more secure than in-house shredding.
We use mobile shredding trucks that allow us to destroy all documents on-site, thus eliminating the risk of something happening in transit. This helps us to ensure that your confidential information is destroyed as promptly as possible.
We also issue our customers with certificates of destruction. These provide a record that you destroyed confidential information responsibly. In the event that you are audited by the Data Protection Commission, they are a useful means of proving that your organisation is capable of following the proper protocols.
Efficiency
Shredding, particularly with a garden-variety shredder, is a long and tedious process. Most machines require you to feed in each document by hand, one by one. Conversely, a major advantage of using a shredding company is speed and efficiency. Not only are our shredders better, but our staff will also take care of handling the documents which frees up you and your colleagues.
In addition to this, regular shredding is the best way to keep offices and storerooms neat, tidy and clutter-free. Paper has a way of building up quickly and getting everywhere if you're not careful. Shredding regularly has the added benefit of helping to keep your building clean.
Sustainability
Perhaps most importantly of all, shredding is good for the environment. That is because we recycle 100% of our shredded paper. Shredding makes it easier for you to segregate your rubbish and ensure that no recyclable paper ends up in a landfill.
Not only that, all the paper that gets recycled is then used to create new products. Everything from Kitchen rolls to cardboard can be made from recycled paper. The more recycled material that we can provide for these products, the fewer trees have to be cut down. In fact, Pulp has saved over 400,000 trees since we opened for business.
Choosing the Right Confidential Shredding Service Provider
There are a few things you should look out for when selecting your shredding service provider. Here are our recommendations:
Customer reviews. The most important thing for many people when choosing a new company to work with, rightly, is customer service. The best way to get a read on this is to go straight to the horse's mouth and read reviews online. Some companies also include customer testimony on their websites.
Qualifications. Being a successful shredding company is about more than just having the right equipment. Look out for the certifications your prospective shredding partners hold. For example, Pulp is EN15713 accredited which means our practices meet the maximum European secure shredding standards. We are also one of just six NAID AAA mobile shredders in Europe.
Sustainability. This came up in the previous section, but it's worth mentioning again. One of the main reasons shredding is so important is its positive impact on the environment. Ensure that your shredding company takes its recycling and environmental commitments seriously.
Wrapping Up
As you can see, shredding isn't just for businesses. If your organisation handles sensitive information of any kind, you need to start using a shredding provider if you are serious about meeting your privacy obligations and avoiding data breaches. To find out more information, or to get started shredding today, don't hesitate to get in touch with Pulp.