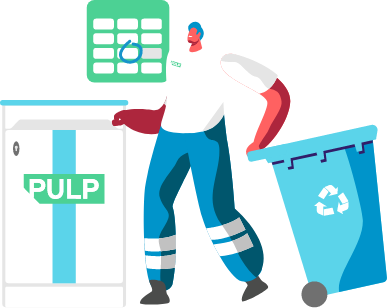 At long last, we have an end to the most severe coronavirus restrictions. For many, this is a time of hope. For others, apprehension. As we navigate this transition period, one thing seems certain: We'll be using the office more and more. For all of us at Pulp, that means it's time to pursue our mission with renewed vigour. From our bases in Dublin and Cork, we will continue to provide Ireland's premier confidential shredding service.
After two years, it looks as though we've reached the light at the end of the tunnel. Emerging after such a long, uncertain journey has been disorienting. However, as the economy kicks back into gear, we at Pulp Confidential Shredding stand ready to lighten your load. Let us take care of your paper disposal needs. We're sustainable, discrete, and efficient! There are big changes happening at the moment and everyone has enough on their plate. Not only will our services take the burden of managing paper waste off your shoulders, you can rest easy with the knowledge that any sensitive data will be securely handled.
Looking for A Confidential Shredding Service in Dublin? Here's how we can help!
Now is the perfect time to be thinking about shredding. Is your office full of obsolete, pre-pandemic documents? Safely purge them all with our One Off Onsite service. Now that your staff are moving through a higher volume of paper, do you need it securely, sustainably removed on a regular basis? Regular Onsite shredding is the answer. In this case, we'll provide you with secure, easy-to-use consoles for your shredding. These consoles will be collected before being shredded onsite by our cutting-edge mobile shredding trucks.
Whatever your needs are, we have the solution. Whether you're in Dublin, Cork, or anywhere in between, we can tailor a confidential shredding service to your requirements. Contact us today to find out more!

Did you know if you sign up for a Confidential Regular Shredding Service in Dublin, you may qualify for a free coffee for you and all your staff, with our sister company Cuco Coffee? Click here to find out more.