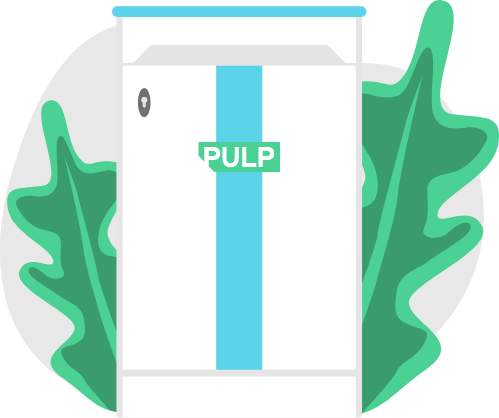 We have arrived at a point where no business can afford to neglect document destruction. The costs, from storage expenses to punitive fines arising from audits, are too great to ignore. The risks posed by data breaches have increased, and legal obligations on the part of businesses have materialised to compensate. We have reached a stage where it is hardly a question of whether or not you should shred, but how you go about it—should you shred in-house or outsource to a confidential shredding company? It is our view that the benefits of outsourced document shredding far outweigh thouse of in-house shredding. Here are four reasons you should go with Pulp.
Maximise your Security
Shredding is the best way to ensure that your confidential documents don't fall into the wrong hands. Outsourced document shredding is the best way to guarantee that the data is destroyed securely. This is because companies like Pulp make use of the highest quality shredders. A typical office shredder merely tears paper into strips which you can reassembled with enough patience and determination. A document that goes through a Pulp shredder is beyond recovery. Because we use mobile shredding trucks, all of your confidential documents are destroyed on-site, which further minimises risk.
Minimise your Cost
Shredding in-house can seem like the best way to reduce costs. A one-time investment in an office shredder would surely be worth it if you get enough mileage out of it. However, it is very easy for the costs to mount. A high-end shredder that destroys documents to a good standard can drastically inflate your budget, and even if you do purchase one of these machines, it won't shred nearly as thoroughly as a Pulp shredder. Outsourced document shredding is better value for money.
Outsourced Document Shredding and Scheduling
In an earlier blog, we discussed when you should destroy documents. Ideally, different types of documents have different retention periods depending on the sensitivity of the data, their future utility, and convenience. Implementing a shredding schedule that takes into account different retention periods for different types of documents can be a complicated business, but outsourced document shredding helps. Firstly, the shredding process becomes more straightforward from your end because the hardest and most time consuming part falls to us. Secondly, the regularity of our service makes for easy scheduling.
Improve your Efficiency
Outsourced document shredding is far more streamlined than in-house shredding for a number of reasons. Firstly, your employees no longer have to use up their time doing the shredding themselves, as our team will take care of it. Secondly, there's no longer any need to worry about maintaining a shredder. Un-jamming paper clips, lubricating blades and replacing defunct machines are things of the past. With more time on your employees' hands and a tidier, less cluttered office, increased productivity is a given.
How does outsourced document shredding work?
We've made sure that the process of outsourcing your shredding is as easy as possible. First, give us a call and we'll discuss what your shredding needs are. This will allow us to tailor a shredding plan according to your requirements. We offer a Regular as well as a One Off shredding service. Next, we'll set up paper consoles in your office. These are secure boxes where you can deposit all of your unwanted paper. Our Garda-vetted team will come on a regular basis to empty your consoles and shred all of the contents on-site. Give us a call today to find out more!